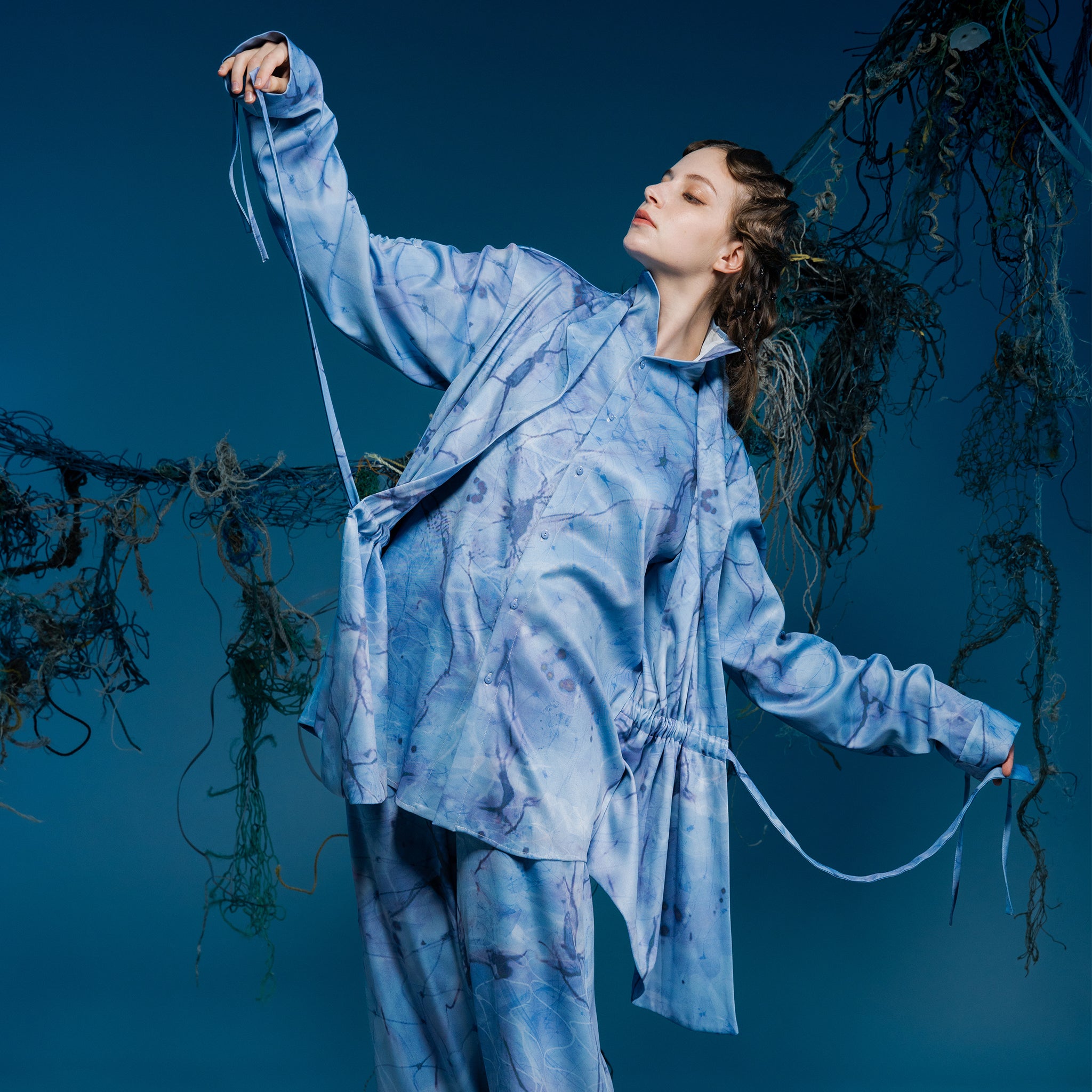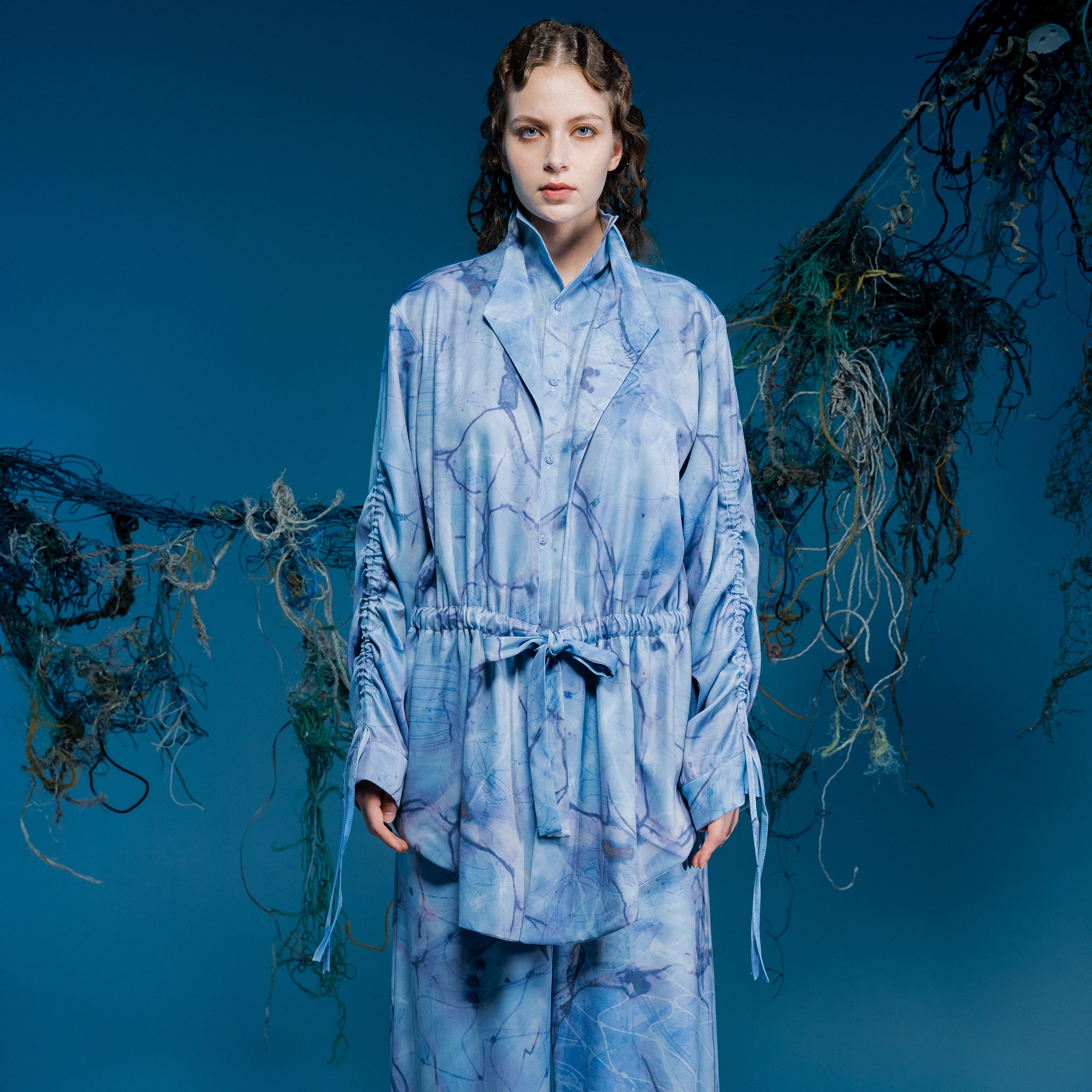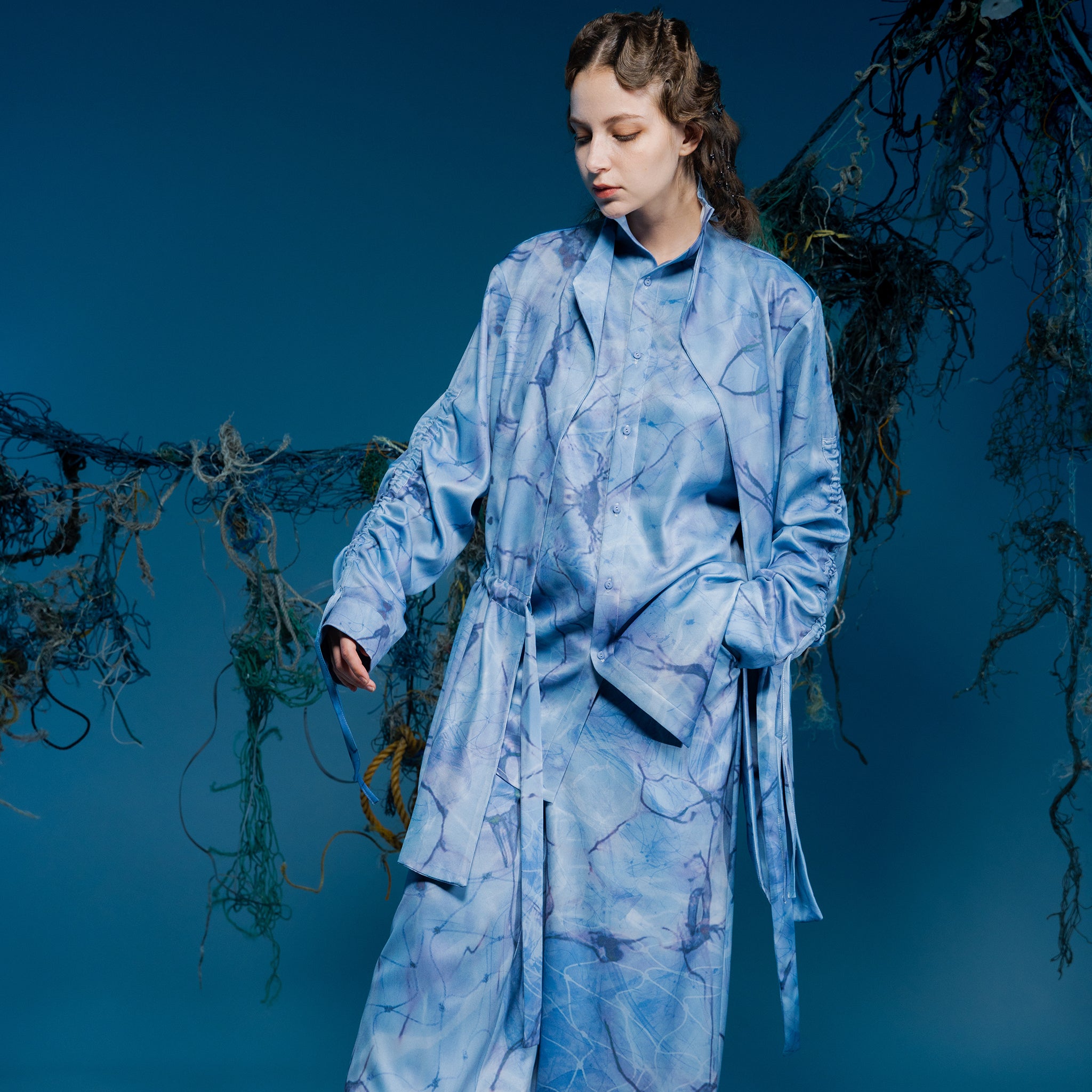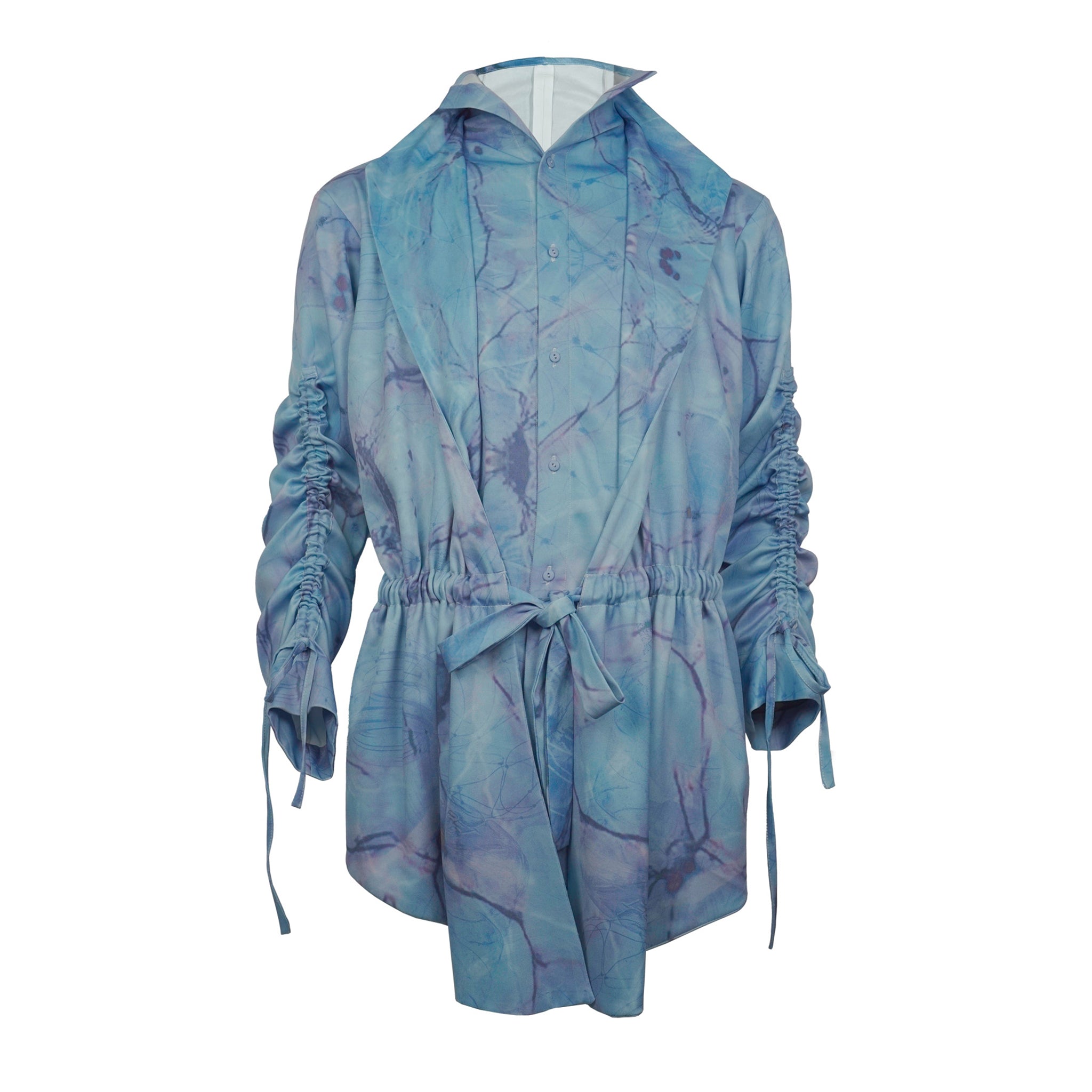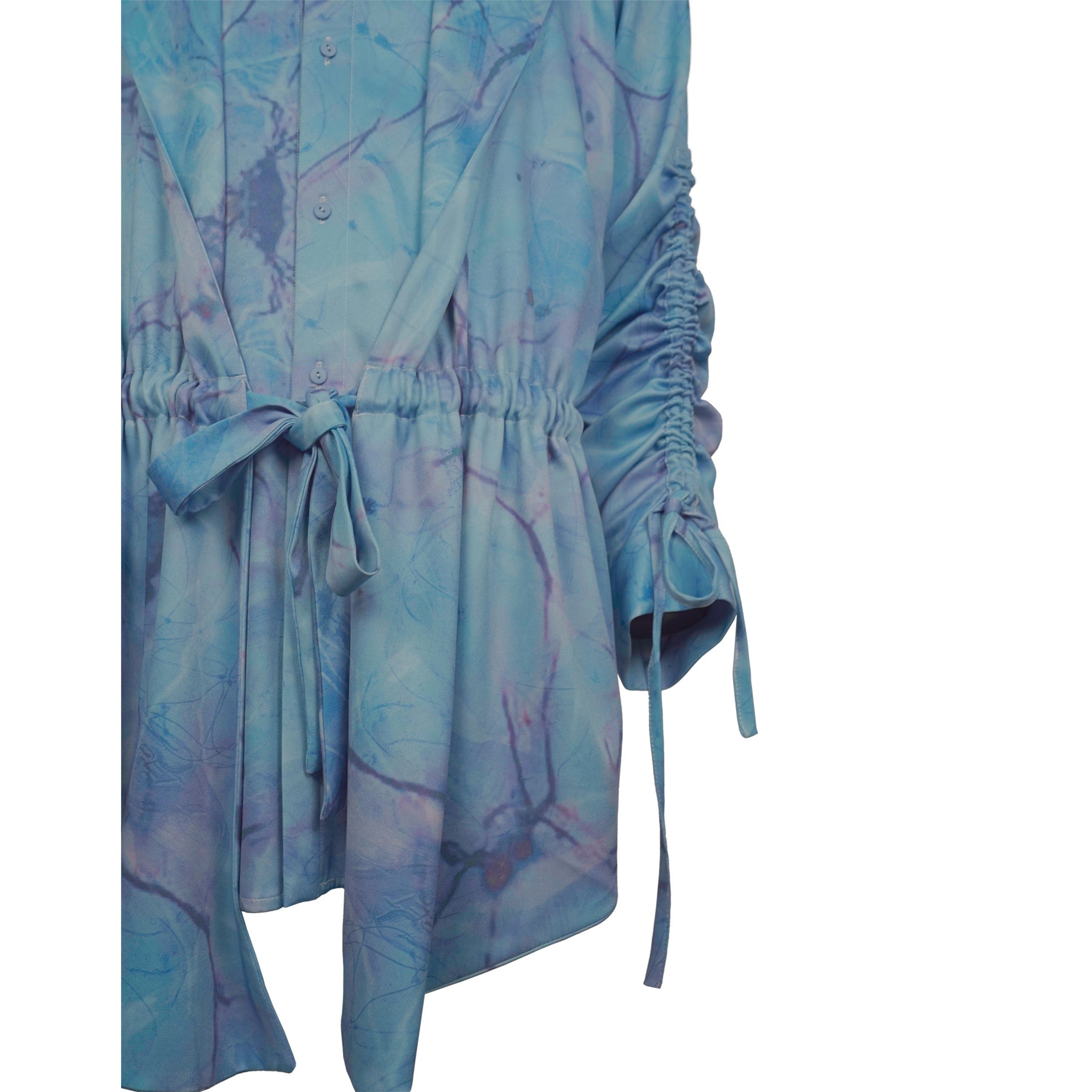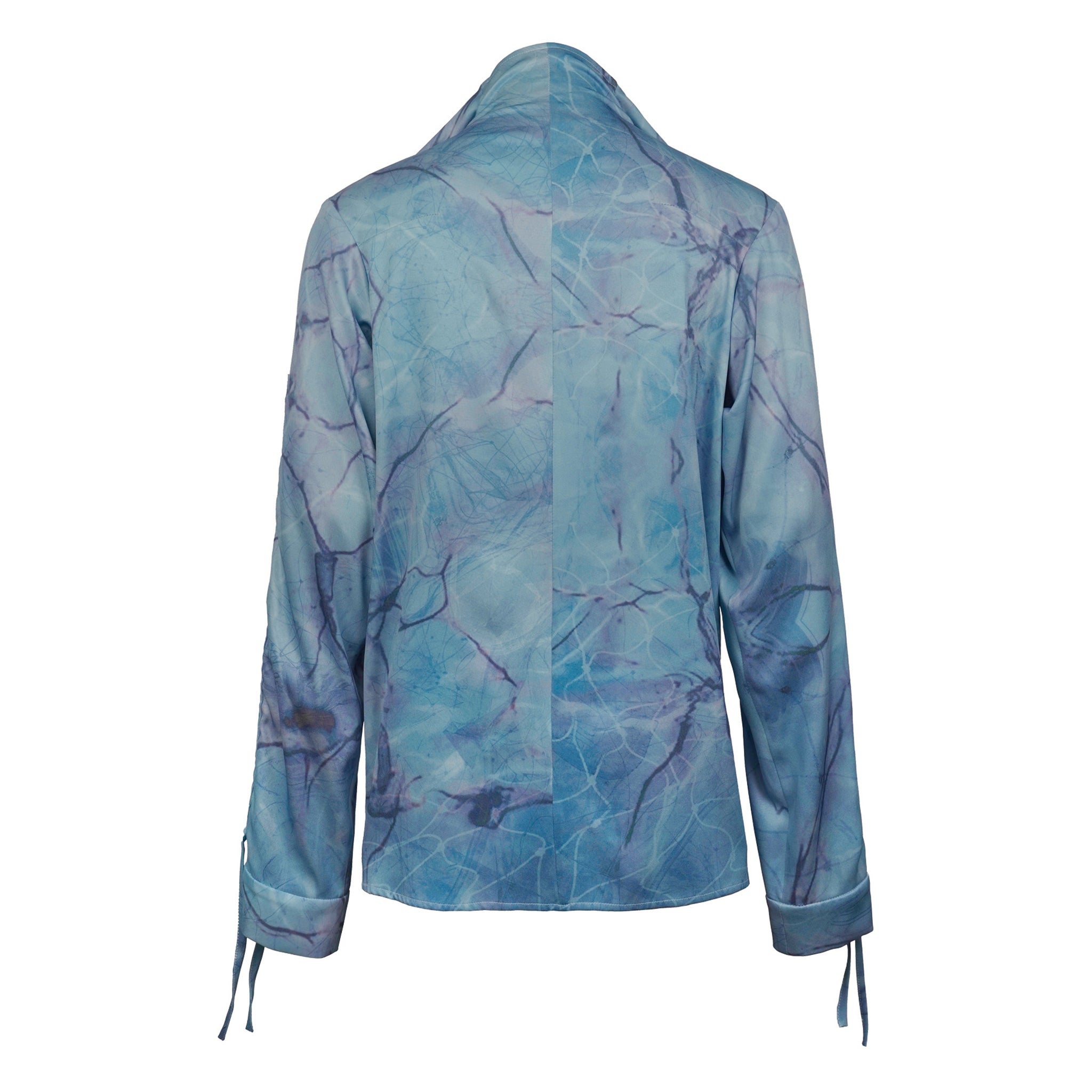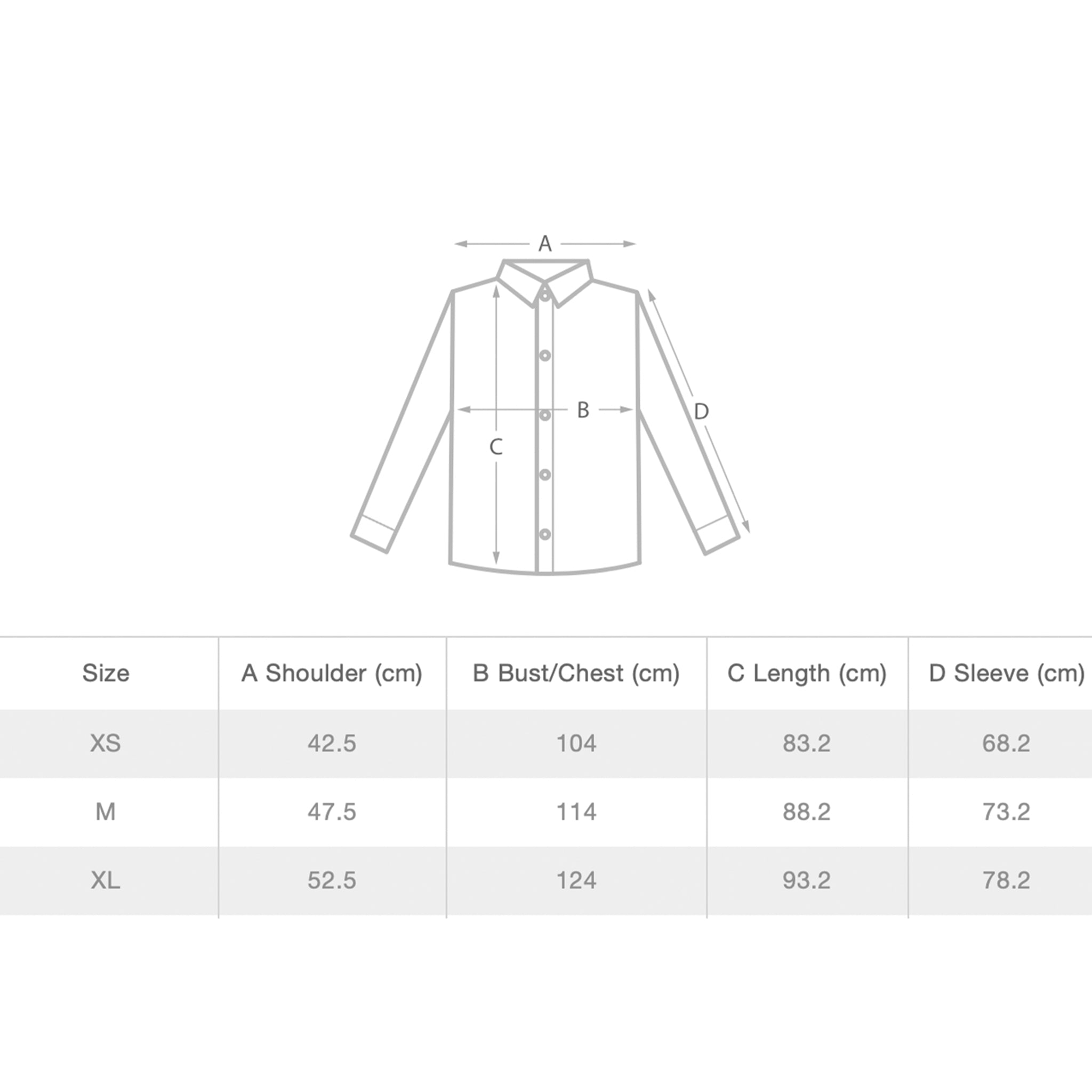 Two-Piece Drawstring Printed Stand Collar Shirt
INF 23AW AMADesign
This season takes inspiration from the "Ama", continuously deconstructing and reshaping traditional silhouettes, incorporating wave-like elements. Embracing the brand's expertise in deconstructive style, it once again presents the transformative and versatile "one garment, multiple styles" design. In today's gender-neutral fashion landscape, the brand continues to deconstruct and redefine representative clothing for both men and women while maintaining its classic dark aesthetic DNA.
The garment's design is based on the visual profile of a formal shirt, with intricate details that set it apart. The inner layer of the clothing features a unique stand-up collar design, from which two panels extend outwards. The outer layer resembles the structure of a lapel, and drawstring features on both sides of the waist add versatility to the garment's appearance. These drawstrings can be used to create dynamic, wave-like folds on the fabric, allowing the straps to naturally drape on the sides. They can also be tied to fasten the outer layer panels, adding depth and complexity to the overall look.
Additionally, drawstrings are thoughtfully incorporated on the cuffs, giving you the flexibility to wear them either relaxed like a traditional shirt sleeve or cinched for a shorter sleeve length. This design approach strikes a balance between elegance and intricate detailing, enhancing the overall appeal of the garment.
This season's prints draw deep inspiration from the natural environment. Our INF team embarked on a journey to the beach, collecting common marine waste such as fishing nets, plastic bottles, and caps.Through digital synthesis techniques, these ocean waste materials are transformed into printed patterns.This fusion of beauty and decay results in a fashionable yet eco-conscious style. Additionally, the fabric is crafted using recycled PET bottle yarn, symbolizing our commitment to the coexistence of the Haenyeo culture with marine sustainability.
Pair this shirt seamlessly with the matching print pattern floor-length wide pants from this season's collection for a unified color scheme in your outfit. Alternatively, it can be styled with the deconstructed pleated skirt series from this season to add depth and richness to your overall outfit's visual layers.
Fabric
POLYESTER 100%
Color
PRINTS
Washing Methods
Normal Wash
Do Not Bleach
Low Heat
Do Not Tumble Dry
Model size
175cm / 50kg
Product size M
Delivery time
7-14 working days
Free shipping worldwide
Share